April 18 - 27. Oil/Acrylics.
€2995 per person double occupancy
Sicily is the largest of the Italian islands, separated from the Continent by the Strait of Messina and surrounded by the Ionian, the Tyrrhenian and the Mediterranean Seas.
Nature seems to have endowed all its wonders to this land: mountains, hills and above all the sea, with its incredible colors, its crystal-clear water and the beauty of its seabeds, in no way inferior to those of other seas.
Here, the Mediterranean Sea, with its many little islands scattered around the coasts of Sicily – The Aeolians, Egadi and Pelagie Islands, Pantelleria and Ustica – offers unique and the intense sceneries, scents and flavors of uncontaminated nature.
Last but not least, its great volcanoes are symbols of the irresistible beauty and vitality of this incredibly charming region.
Fascination for this region grows with treasured archaeological sites that tell the story of the ancient origins of Trinacria (ancient name for Sicily).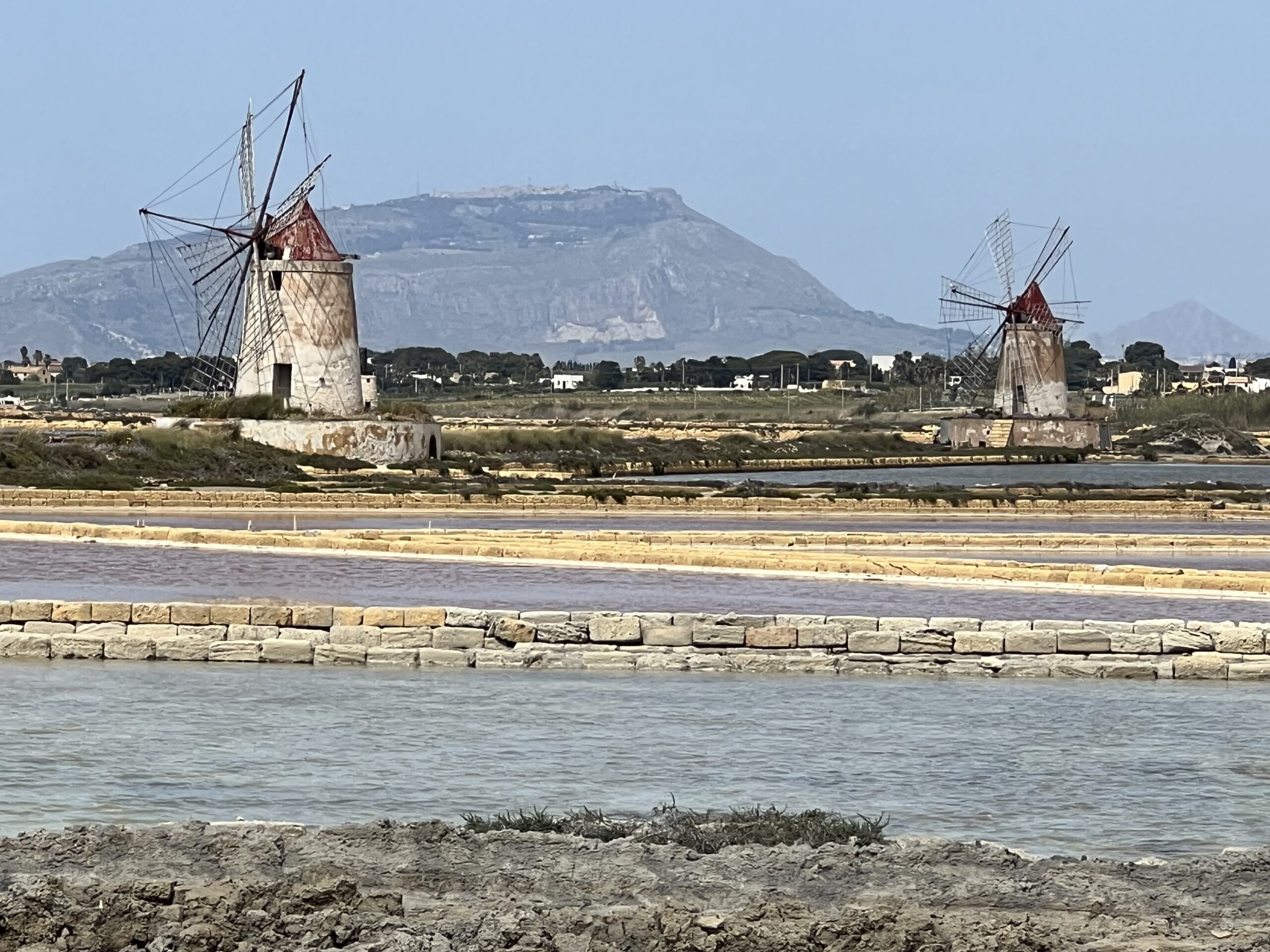 Breakfasts and dinners.
Wine, water & coffee with evening meals.
Please Note! Anything other than wine, water and coffee, will be at your own cost, eg. Prosecco, Aperol Spritz, shots, soda, beer, etc
All accommodations.
Minibus transport or arranged private taxi from the airport to your hotel and back.
Lunch, snacks and other drinks than wine and coffee with dinner
Flights
Travel insurance and other emergencies
Visa fees and entry clearing fees
Minibar and Extras inbetween Meals
7 or 10 Day Workshop for Sicily –
Pick up at Palermo Punta Raisi airport:
Sample Itinerary only Sicily………….is in No particular order
Day 1 – Arrival in our home base of Sopra Le Mura Hotel in Castellammare del Golfo. Meet the group & Tutor & enjoy our first evening meal. Talk about the week ahead.
Day 2 – Start the week with a slow pace & stay to Paint within the grounds of our home base. Lots of Subject matter & also time to use one of the pools. Dinner will go down at one of the beach front restaurants at Marinella 5 minutes from our Agriturismo.
Day 3 – The temples of Selinunte . The biggest Archaeological Park in Europe with Greek temples dating back to the 5th & 7th C. BC. There may be another half day visit to a different part of the historical grounds
Day 4 – The Tonnara of Scopello & the hamlet of Scopello itself. On the north west corner of Sicily. Views of the Original tuna plant with lookout tower & rocky coastal needles making it an interesting location. In the afternoon we may ( time permitting) stop for a sketching/photo opportunity on the harbour of Castellalmare.
Day 5 – We travel west to the salt pans of Stagnone in Trapani with views of the original Windmills once were a major part in producing the sea salt.
Day 6 – Morning trip to the Open air Market of Castelvetrano. After Lunch we drive 10 minute drive to Castelvetrano where we will be in the grounds of " Chiesa Trinita' di Delia" focusing on the 12 C. Arab Byzantine church set in peaceful grounds
Day 7 – Travel to the coastal town of Mazzara del Vallo with its Arabic influence is an interesting town to spend a half day Painting.
Early evening finish for appraisal of your work with tutor, and feedback of your workshop experience with Tuscany in the Frame. Celebratory evening meal.
PS. This is a SAMPLE itinerary only. We will also make time to paint on location
at our base at the " Case di L'atomie" in Selinunt
Day 8 – Transfer to Palermo Punta Raisi airport.
OUR 10 DAY ITINERARY WILL CONSIST OF A BOAT TRIP TO ONE OF THE EGADI ISLANDS OF LEVANZO OR FAVIGNANA (WEATHER PERMITTING)
ALSO CASTELALMARE DEL GOLFO, & THE LOCAL OLIVE GROVES OF CASE DI LATOMIE
More information will be emailed to you about the workshops & with travel information, packing list and pick up/drop off mailed to you several weeks before the start of your workshop. If you have any queries, or cannot make the pick up point please do not hesitate to contact me for information on how to reach your base.