October 28 - November 6.
Watercolor, acrylics and mixed media.
€2895 per person double occupancy
Sicily is the largest of the Italian islands, separated from the Continent by the Strait of Messina and surrounded by the Ionian, the Tyrrhenian and the Mediterranean Seas.
Nature seems to have endowed all its wonders to this land: mountains, hills and above all the sea, with its incredible colors, its crystal-clear water and the beauty of its seabeds, in no way inferior to those of other seas.
Here, the Mediterranean Sea, with its many little islands scattered around the coasts of Sicily – The Aeolians, Egadi and Pelagie Islands, Pantelleria and Ustica – offers unique and the intense sceneries, scents and flavors of uncontaminated nature.
Last but not least, its great volcanoes are symbols of the irresistible beauty and vitality of this incredibly charming region.
Fascination for this region grows with treasured archaeological sites that tell the story of the ancient origins of Trinacria (ancient name for Sicily).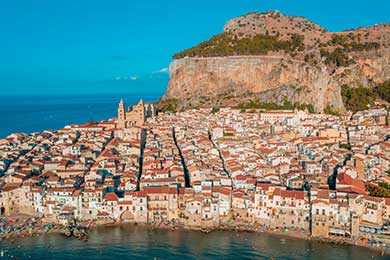 Breakfasts, lunches and dinners.
Wine, water & coffee with evening meals.
All accommodations.
Minibus transport from start to finish.
Flights
Travel insurance and other emergencies
Visa fees and entry clearing fees
Minibar and Extras inbetween Meals
7 or 10 Day Workshop for Sicily –
Pick up at Palermo Punta Raisi airport:
Sample Itinerary only Sicily………….is in No particular order
Day 1 – Arrival in our home base of Case di Latomie. Meet the group & Tutor & enjoy our first evening meal. Talk about the week ahead.
Day 2 – Start the week with a slow pace & stay to Paint within the grounds of our home base. Lots of Subject matter & also time to use one of the pools. Dinner will go down at one of the beach front restaurants at Marinella 5 minutes from our Agriturismo.
Day 3 – The temples of Selinunte . The biggest Archaeological Park in Europe with Greek temples dating back to the 5th & 7th C. BC. There may be another half day visit to a different part of the historical grounds
Day 4 – The Tonnara of Scopello & the hamlet of Scopello itself. On the north west corner of Sicily. Views of the Original tuna plant with lookout tower & rocky coastal needles making it an interesting location. In the afternoon we may ( time permitting) stop for a sketching/photo opportunity on the harbour of Castellalmare.
Day 5 – We travel west to the salt pans of Stagnone in Trapani with views of the original Windmills once were a major part in producing the sea salt.
Day 6 – Morning trip to the Open air Market of Castelvetrano. After Lunch we drive 10 minute drive to Castelvetrano where we will be in the grounds of " Chiesa Trinita' di Delia" focusing on the 12 C. Arab Byzantine church set in peaceful grounds
Day 7 – Travel to the coastal town of Mazzara del Vallo with its Arabic influence is an interesting town to spend a half day Painting.
Early evening finish for appraisal of your work with tutor, and feedback of your workshop experience with Tuscany in the Frame. Celebratory evening meal.
PS. This is a SAMPLE itinerary only. We will also make time to paint on location
at our base at the " Case di L'atomie" in Selinunt
Day 8 – Transfer to Palermo Punta Raisi airport.
OUR 10 DAY ITINERARY WILL CONSIST OF A BOAT TRIP TO ONE OF THE AOLIAN ISLANDS OF LEVANZO OR FAVIGNANA (WEATHER PERMITTING)
ALSO CASTELALMARE DEL GOLFO, & THE LOCAL OLIVE GROVES OF CASE DI LATOMIE
More information will be emailed to you about the workshops & with travel information, packing list and pick up/drop off mailed to you several weeks before the start of your workshop. If you have any queries, or cannot make the pick up point please do not hesitate to contact me for information on how to reach your base.
We will provide the bulk of your equipment, i.e. boards, chairs, and easels, but you will need to bring some materials e.g. sketchbooks, pencils and brushes. A selection of materials and stretched canvases are available at cost price, and at the end of your holiday we can arrange framing and shipping of your finished paintings should you wish.
On a typical day we will paint for most of the morning, either in the grounds or out on location. At various times during the workshops there will be demonstrations by the tutor. The afternoon will provide more opportunities to continue our morning's work, working on into the early evening to take full advantage of the wonderful clarity and warmth of the Tuscan light. There will also be a free day during the week to do as you please – transport into Cortona will be on offer for those who would like to explore or shop , Anyone wishing to go to Arezzo or Florence for the day we will drop you off at our local train station.
All your meals are provided, either making use of the best local produce and specialities at the villa, or out and about at good quality restaurants. Each morning we will offer a healthy breakfast including fresh croissants, cereals, yoghurts and a selection of seasonal fruits. Lunch will be a relaxed affair – perhaps a picnic lunch at the villa or on location, or at a local trattoria. Evening meals will be a mix of barbecues or dinners at the villa, and there will be some evening meals at quality restaurants in Cortona. There will be a variety of excursions on offer in our Tuscany in the Frame minibus to medieval hilltop towns. We will often be travelling through the fabulous countryside of the ValdiChiana, with its classic Tuscan views, so always have your sketchbook and camera handy as there will be lots of opportunity to collect information and material to work on back at the studio.
Our trips will include two beautiful hill towns – Monticchiello, possibly Pienza with its famed local Pecorino cheeses; and also Montepulciano known for its wonderful wines. Here we will have the opportunity to visit La Cantina Ercolani for wine tasting in one of the oldest wineries in Tuscany, where you may sample the famous Vino Nobile – sadly no relation!
Itinerary.
Although we have an itinerary we always make a point of saying that "the itinerary is subject to change" This will obviously be something that we will communicate to the group in advance or on arrival. It is very rare when we have had to change part of the itinerary.
General itinerary for Tuscany 10 days (when doing a 7 day workshop we will choose a selection of the itinerary below)
Day 1 – Arrival .
Pick up point Rome Fiumicino Airport no later than 2pm if possible. Arrive at Villa Nobile (2.5 hr journey) Settle into your accommodation , then meet for pre evening dinner, meet the Tutor & have a lovely dinner with wine & talk about the week ahead & our expectations.
Day 2 – Easy start to our first day painting around the grounds of Villa Nobile for the Tutor to evaluate your level & what you would like to achieve from this workshop. Lunch & continue into the evening. Dinner out in Cortona.
Day 3 – Travel to Monticchiello for our painting location. Break for lunch. Continue painting till Approx 16.30. Visit Montepulciano Cantina Ercolani winery for wine tasting. Return to Villa Nobile for dinner.
Day 4 – Local Countryside Gaggiole
Day 5 – Trip to SantAntimo.
A beautiful 11thC Abbey immersed in a valley surrounded by olive groves & hillsides. Still run by the Benedictine monks that perform daily masses with Gregorian Chanting. SantAntimo is near Montalcino .
Day 6 – Trequanda, small quiet town with small church & quaint streets
Day 7 – Depending on your arrival day…(Thursday is market day in the town of Camucia) something that most people enjoy….only 5 minute from the Villa. Around 11am We then make our way up the hill to our town of Cortona known for the film "Under the Tuscan Sun " for our painting location. We may stay in Cortona & paint in the olive groves below Cortona view of the Valdichiana. so that we can work on our painting well into the evening. Dinner out
Day 8 – Free day…..suggest Florence, Arezzo or Cortona
Day 9 – San Feliciano at Lake Trasimeno. Lunch at the lake then return to Villa in the afternoon
Day 10 – Orvieto Painting until 3pm. Early finish for appraisal of the 10 days paintings.
Day 11 – Departure to Rome Fiumicino.
Although the itinerary looks very busy, I do stress that anyone wanting to take time out to relax, use the pool, or even stay at the Villa & paint rather than coming on the location of that day….please feel free to do so. We will have time to paint back at the Villa some evenings & the Tutor will give demonstrations from during the week.
Please ask if there is anything at all that is not clear & I will do my best to answer all your questions. Pick up Point is Rome Fiumicino Airport. If possible no later than 2pm arrivals. Usually for most flights.